Premier Kathleen Wynne to Meet with Key U.S. Business Leaders and Decision-Makers
Trip to the U.S. Will Foster New Opportunities for Investment and Collaboration
Ontario Premier Kathleen Wynne will travel to New York City and Washington D.C. next month to strengthen and expand strategic partnerships with Ontario's neighbour and largest trading partner.
The Premier will begin her trip on May 14, 2015 in New York City, where she will deliver a keynote speech on Ontario's economic plan to the Canadian Association of New York. She will be joined by Ontario's Minister of Finance, Charles Sousa. Premier Wynne will also meet with business leaders in New York and showcase Ontario's innovative business climate during a discussion panel before investors, entrepreneurs and academia at Nasdaq.
The Premier will then travel to Washington D.C., where she will meet with key decision-makers in the U.S. administration. Ontario has a long-standing and very productive relationship with the United States in many areas, including trade, infrastructure and stewardship of the Great Lakes. These meetings are expected to further collaboration in these areas and enhance Ontario's commitment to be a North American leader in fighting climate change.
On May 19, Premier Wynne will highlight how Ontario's economic strengths benefit countries in the Americas when she addresses the Permanent Council of the Organization of American States. The Premier will then make a lunchtime speech at the Woodrow Wilson Center's Canada Institute, where she will outline how unprecedented investments in infrastructure and Ontario's actions on climate change will pave the way for a more sustainable future for the region.
This trip is an opportunity for the Premier to showcase Ontario's leadership on the world stage, as the province prepares to host a major international summit on climate change, as well as the 2015 Pan Am and Parapan Am Games.
Enhancing Ontario's global presence is part of the government's plan to build Ontario up. The four-part plan includes investing in people's talents and skills, making the largest investment in public infrastructure in Ontario's history, creating a dynamic, innovative environment where business thrives, and building a secure retirement savings plan.
Quick Facts
Last year, more than 65 per cent of Ontario's total global trade was conducted with the United States.
To further strengthen Ontario's presence in the United States, in 2013, Premier Wynne appointed Monique Smith as Senior Representative in Washington D.C.
Ontario has had an International Marketing Centre in New York since 2001. It works to attract foreign direct investment, promote exports and forge innovative partnerships.
From July 7 to 9, 2015, Ontario will host the Climate Summit of the Americas, which will bring together Pan-American jurisdictions, environmental groups and industry to work toward common approaches to reducing greenhouse gas emissions and investing in a low-carbon economy.
The 2015 Pan Am and Parapan Am Games in Ontario will bring together more than 10,000 athletes and officials from 41 countries.
Quotes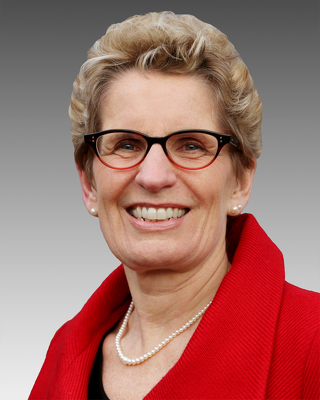 "Ontario's partnership with the United States is enormously important and I want to make sure we seize every opportunity to expand it. We have an ambitious economic plan for our province — one that includes the largest infrastructure investment in Ontario's history and bold actions to fight climate change. As we build Ontario up, I want to make sure more decision-makers and business leaders hear why Ontario is a great place to invest."