Fiscal Responsibility and Economic Fundamentals
In the aftermath of the global economic recession, Ontario, like most places around the world, has been running large budgetary deficits. More than two years ago, the government made a deliberate choice to return the budget to balance without raising personal income taxes on the middle class or cutting the services people rely on. Instead, it is investing in the people of Ontario through its four-part economic plan to build Ontario up by growing the economy and creating good jobs, its number-one priority.
The four-part plan includes helping more people get and create the jobs of the future by making a high-quality college and university education more affordable. The plan is making the largest infrastructure investment in hospitals, schools, roads, bridges and transit in Ontario's history and is building a low-carbon economy driven by innovative, high-growth, export-oriented businesses. The plan is also helping working Ontarians achieve a more secure retirement.
Over the past two years, this plan has delivered its intended results:
From the first quarter of 2014 to the first quarter of 2016, Ontario's economy grew by 6.1 per cent
In 2015, the national economy grew 1.1 per cent while Ontario's economy grew 2.6 per cent
In the first quarter of 2016, the United States economy grew at a rate of 0.2 per cent and the average rate of growth across the G7 was 0.5 per cent. Ontario's first quarter growth exceed both of these targets, coming in at 0.8 per cent, or an annualized rate of three per cent growth
Ontario has recovered all the jobs lost during the recession and added even more. Employment is now 4.9 per cent or 327,000 above the pre-recession peak
98.6 per cent of the increase in employment since the recession is in full-time positions and 72 per cent is in above-average wage industries
Unemployment in Ontario has declined from its recessionary highs in every region of the province and reached an eight-year low this year. Almost 600,000 net new jobs have been created since the depths of the last recession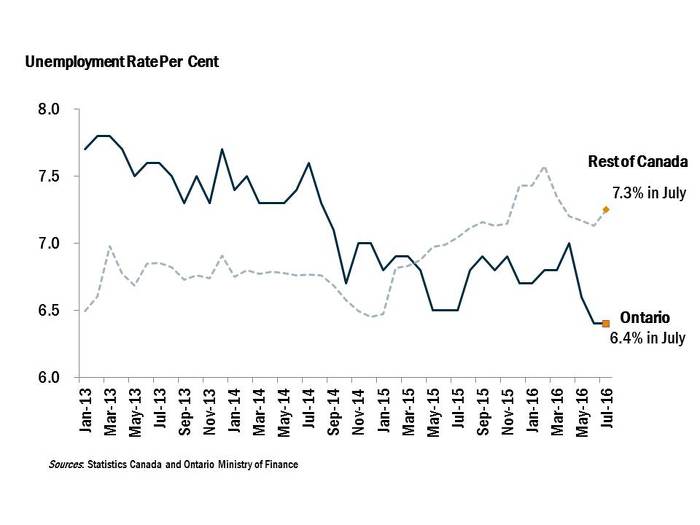 As a result of this resurgent growth and the government's careful management of its spending, Ontario is projected to beat its deficit target for the seventh year in a row. By continuing to beat its fiscal targets, Ontario's accumulated deficit is $30 billion lower than it otherwise would have been.
Ontario will eliminate the deficit next year, in 2017-18, and the budget will remain balanced in 2018-19.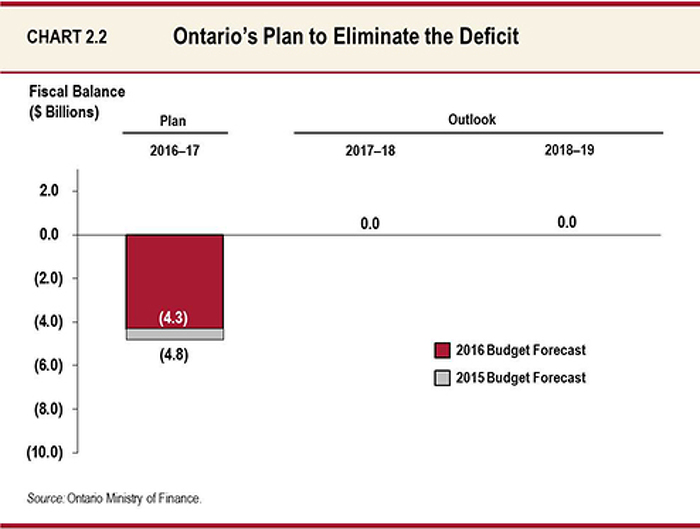 Eliminating Ontario's budget deficit on schedule shows that with a fair and balanced plan, Ontario will remain an attractive destination for job-creating investments and will continue to build the things that matter to the people of the province: better health care, a superior public education system, modern infrastructure, enhanced retirement security and shared opportunities in a growing economy.
Between 2010-11 and 2014-15, Ontario held program expense growth to an average annual rate of 1.4 per cent, which is below inflation. The province held spending growth down while still supporting the vital public services that Ontarians rely on and investing in new health, education and social programs and building a record amount of new infrastructure. The province has achieved these outcomes by finding new and more efficient ways to deliver the best value for Ontarians and by strategically investing in economic growth.
The government is making the biggest investment in public infrastructure in Ontario's history with a plan that invests about $160 billion over 12 years, starting in 2014-15. These infrastructure investments are stimulating economic growth.
The positive economic impact of investing in infrastructure was recently affirmed by former Bank of Canada Governor David Dodge, who said that in order to strengthen economic growth, the emphasis should be on taking advantage of low interest rates to invest in infrastructure.1
Capital investments spur economic growth, which means an increase in provincial GDP growth. The resulting increase in GDP growth will mean falling debt levels, thereby lowering the net debt-to-GDP ratio to the government's 27 per cent target.
On average, investing one dollar in public infrastructure in Canada raises GDP by $1.43 in the short term and up to $3.83 in the long term.
Due to Ontario's economy now growing by a larger sum than its net debt, the government's responsible handling of its finances, controlled spending and strategic economic investments mean Ontario's debt as a percentage of GDP is beginning a steady decline towards the province's goal of reaching a pre-recession net debt-to-GDP ratio of 27 per cent.
Ontario has also locked in low-interest rates for a longer period, which reduces risks related to interest rate fluctuations. Through prudent and cost-effective debt management, the province has consistently kept interest-on-debt costs below budget projections. Interest costs have remained relatively stable at nine cents of each revenue dollar.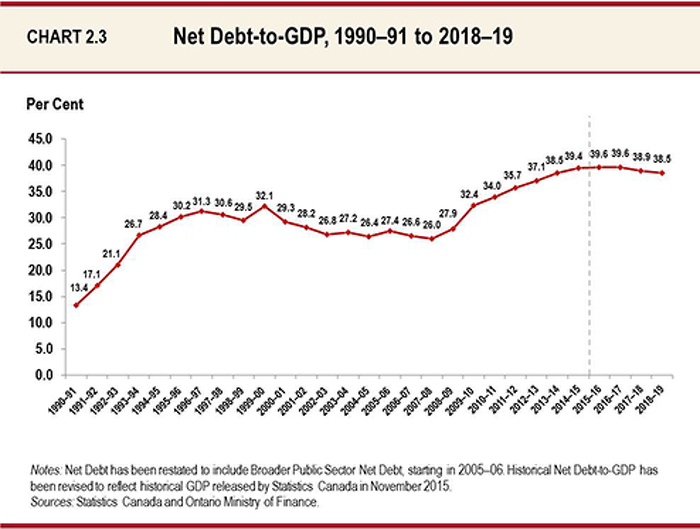 The upgrade of Ontario's outlook to stable by Moody's and the confirmation of the province's credit ratings by Fitch, S&P and DBRS reflect rating agencies' confidence in Ontario's plan to grow Ontario's economy and create jobs.
In Moody's own words, "the stable outlook on the Province of Ontario's ratings reflects our opinion that the province has presented a budget plan with little risk that the debt burden will exceed recent levels." They also forecast Ontario's debt to "fall marginally across the medium-term and, as importantly, for interest expense to remain manageable as well."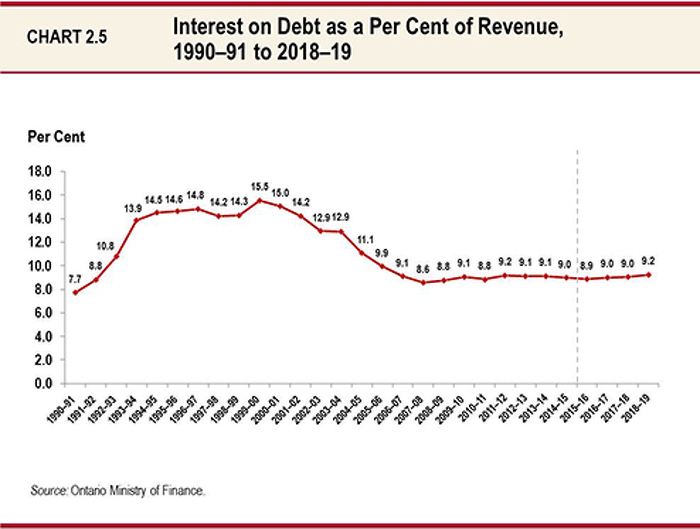 Ontario is making great strides in its plan. The government will eliminate the deficit in 2017-18 in a way that is fair, equitable and protects the valuable programs and services that Ontarians rely on. The path to balance is focused on Program Review, Renewal and Transformation, managing compensation, maintaining tax fairness and maximizing the value of provincial assets. And it is underpinned by a four-part economic plan that is delivering jobs and growth all across Ontario.
Ontario's economic accounts for the fourth quarter of 2015 showed that Ontario's real GDP increased 2.6 per cent in 2015. As the province's fiscal and economic situations continue to improve, private-sector economists across the board are forecasting Ontario's economy to be among the top two growth leaders in Canada going forward.
[1] Source: http://www.cbc.ca/news/business/focusing-on-deficits-won-t-build-economy-david-dodge-says-1.2672161