2017 Long-Term Energy Plan
Ontario's 2017 Long-Term Energy Plan, Delivering Fairness and Choice, provides a road map of the province's energy system over the next 20 years. The government engaged with people across the province through in-person meetings, online feedback and formal submissions.
The 2017 LTEP focuses on the affordability and reliability of a clean energy supply, giving consumers more choice in the way they use energy, while offering ways to conserve energy and introducing new regulatory protections.
Ontario's Supply Mix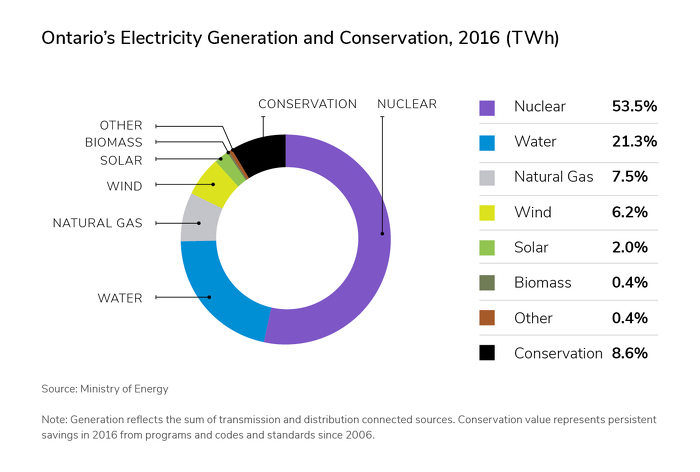 Nearly $70 billion has been invested in Ontario's electricity system since 2003.
In 2016, Ontario's electricity system was 90 per cent free of greenhouse gases that cause climate change. Ontario produced more than 60 per cent of its electricity from nuclear, with renewable resources providing about 30 per cent and emitting generation providing less than 10 per cent.
Conservation programs and improved codes and standards since 2006 helped reduce electricity consumption by about 9 per cent in 2016.
This is a significant transformation compared to 2003, when 25 per cent of generation came from coal. This is due to investments in clean generation and the shut-down of coal-fired generation.
Supply and Demand Outlook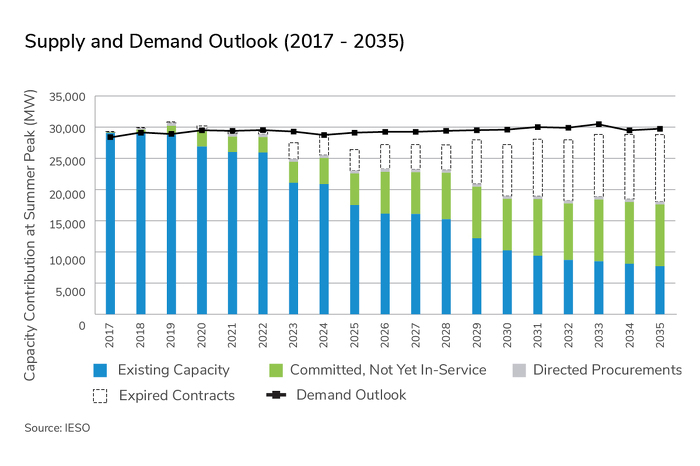 Ontario's electricity system is well-poised to serve the people of Ontario over the next 20 years.
The 2017 LTEP forecasts that electricity demand will be relatively steady over the planning period.
In the longer term, the Independent Electricity System Operator (IESO) projects an increase in overall demand as electrification of the economy increases. The outlook assumes the equivalent of approximately 2.4 million electric vehicles by 2035 and includes demand from new electrified transit across the province.
Ontario's long-term electricity conservation target of 30 TWh of electricity in 2032 will continue to help offset almost all the forecast growth in electricity demand based on the 2017 LTEP outlook.
The 2017 LTEP supply outlook over the planning horizon maintains the flexibility to respond to future variations in the supply and demand forecasts, including increased supply pressures related to the shutdown of the Pickering nuclear generating station and refurbishment outages at the Darlington and Bruce nuclear generating stations.
Ontario is moving away from relying on long-term electricity contracts and is enhancing its market-based approach to reduce electricity supply costs and increase flexibility.
The IESO has begun a market renewal initiative to transform Ontario's wholesale electricity markets. Market renewal is intended to more flexibly and efficiently meet system needs and government policy goals. Market renewal will be aligned with the objectives of Ontario's Climate Change Action Plan and be designed to reduce ratepayer costs and greenhouse gas (GHG) emissions. This is expected to save about $5 billion between 2021 and 2030, and is a key component of the government's plan to bring down the cost of electricity.
Electricity GHG Emissions Profile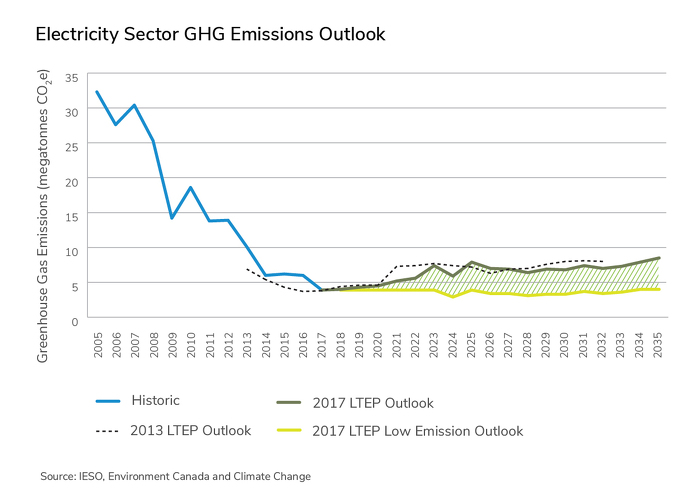 Ontario's investments in clean generation sources - water, nuclear, wind, solar, bioenergy - along with the elimination of coal-fired electricity generation, have significantly reduced GHG emissions. Eliminating coal reduced the province's GHG emissions by 30 megatonnes - the equivalent of removing seven million cars from Ontario's roads.
Ontario's electricity sector is forecast to account for only about two per cent of Ontario's total GHG emissions in 2017 and the emissions are forecast to be more than 80 per cent below 1990 levels.
Emissions are expected to remain well below historical levels and to be relatively flat over the planning period of 2017-2035.
Ontario will continue to look for ways to keep GHG emissions in the electricity sector low, and work with carbon-free generators to meet the province's emissions reduction targets.
Residential Electricity Prices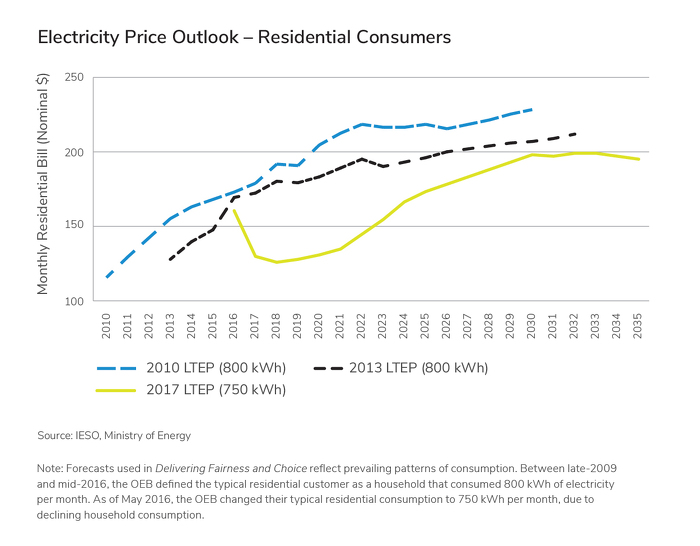 As of July 1, 2017, Ontario's Fair Hydro Plan reduced electricity bills by 25 per cent on average for residential consumers and as many as half a million small businesses and farms across the province. As part of the plan, any increases to bills will be held to the rate of inflation for four years.
Following this, the 2017 LTEP confirms that residential electricity prices are forecast to remain below the level projected in the 2013 LTEP for the full forecast horizon.
For example, the 2013 LTEP forecast that typical residential monthly electricity bills would be $170 in 2017 and $200 in 2027. The 2017 LTEP forecasts bills to be $127 and $181 respectively, including the change in average consumption from 800 to 750 kilowatt hours per month. Additionally, the 2013 LTEP had forecast that a typical residential bill in 2016 would be $167 - the actual bill was $155.
While rates will rise gradually, by an average of about five per cent from 2021 to 2027, the government remains committed to avoiding sharp increases through initiatives outlined in the 2017 LTEP.
Industrial Prices In Line With Inflation
The 2017 LTEP price outlook for large industrial electricity consumers reflects average increases in line with inflation over the forecast period. The actual price paid by a large industrial electricity consumer is dependent on their consumption patterns and can vary among industries and specific consumers.
Currently, the electricity price for industrial electricity consumers in Ontario is lower than the average price in the Great Lakes region as reported by the U.S. Energy Information Administration.
Consumers in Northern Ontario that participate in the Northern Industrial Electricity Rate (NIER) Program can achieve even lower rates. Participants in the NIER Program, which is funded through provincial revenues, receive a reduction of $20 per megawatt hour.
Fuels Use in Ontario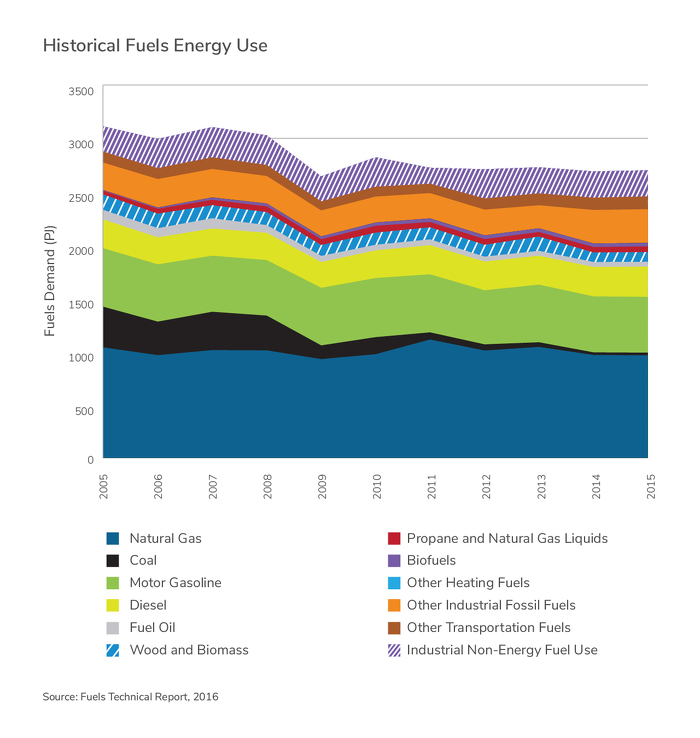 Ontario's fuels sector is multi-faceted in its sources and uses. Natural gas and transportation fuels, such as gasoline and diesel, make up the majority of the province's fuels supply. Fuel consumption has generally declined between 2005 and 2015, largely due to the retirement of coal-fired generating stations.
The 2017 LTEP recognizes that fuels are an important component of the province's economy and Ontario is committed to transitioning to a low-carbon economy.
Currently, about one-third of Ontario's fuel use is from natural gas and one-third from transportation fuels such as gasoline and diesel. About 10 per cent of the province's fuels are used for non-energy uses such as feedstock for manufacturing.
Ontario's fuel supply is produced and delivered through a variety of means and markets, including from outside of the province. As such, the government does not have the same policy and planning functions as it does for electricity.
Nonetheless, Ontario's cap and trade program as well as initiatives in the Climate Change Action Plan will support the transition from conventional fuels to renewable and lower-carbon sources.
The outlook for fuel supply and demand depends on uncertainties such as policy and program decisions over the next 20 years, along with technological innovation. The government will continue to undertake modelling and analysis to identify opportunities to decarbonize the fuels sector consistent with the provincial target of reducing GHG emissions by 37 per cent from 1990 levels in 2030.
LTEP Consultations
The development of the LTEP is prescribed in the Electricity Act, 1998. Between October 2016 and January 2017, the government engaged with industry experts, Indigenous communities and organizations, businesses and Ontarians across the province.
The consultation and engagement process included:

17 industry sessions, with participation from approximately 500 stakeholders
17 public open houses attended by hundreds of Ontarians
17 meetings with representatives from nearly 100 Indigenous communities and organizations
More than 1,500 formal submissions, 200 letters and emails, as well as 2,835 online comments and submissions

Feedback was provided through:
LTEP Implementation
Upon publishing the 2017 LTEP, the Minister of Energy will direct the IESO and the OEB to develop implementation plans. For the 2017 LTEP, these directives will be issued by the Minister. Agencies are required to prepare implementation plans based on the directives and submit them to the Minister for review by January 31, 2018.
Once the Minister of Energy approves the plans, the province, the IESO, and the OEB will move forward with implementation.